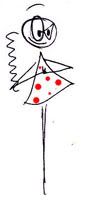 California Kiwi, Cali for short, is a little on the childlike side, and she often has a rather morbid sense of humor. She is modeled mostly after the author, Carolina, and interacts with Kimba in a usually negitive way. Oh well..... =P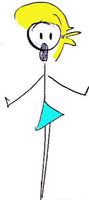 Kimba Mango joined Cali about three months after Cali was created. We can just say that she was not accepted warmly. As the months have gone by, Kimba has developed into a charactor who dismisses Cali's childlike nature as sillyness, and takes the butt end of most of Cali's morbid jokes. Kimba means 'Dungheap' in Swahili--A funny coincodence.....
Li'an the alien is more of a minor charactor. She is a life form from Pluto, and she is not really a friend of Cali or Kimba. She 'drops' in now and then to roll her EYE at the strange events that take place in their 2-dimension world.